To keep up with the increased expenses, many people are looking for an additional source of income. There are plenty of ways to earn some extra money, but the best paid surveys are the most reliable and easiest. And the best thing about survey sites is that they are open to everyone. It doesn't matter whether you are a college student or an experienced professional; everyone can open an account on survey sites. And they pay quite decent as well. You won't be a millionaire by just completing surveys but you can earn some quick money online. However, while selecting survey sites, you have to be very careful because many of them are spam and some of them may even ask for a registration fee. Here are some of the online survey sites that pay.
Swagbucks
Swagbucks is a website that lets you earn some quick money online. It is not available in every country. But, you will find it in all the major places such as the USA, Australia, UK, and Germany. To start earning money, first, you have to sign up with them. It is completely free and the sign-up is also pretty straightforward. They will just ask you for some basic details like your name, email Id, and contact details. Once the signup is completed, you are ready to earn money. For every task which you complete, you will earn some SB which can later be redeemed for cash.
There are plenty of ways through which you can earn money via Swagbucks. These are some of the most popular ones:
1 Use their Search Engine: It sounds too good to be true but it works. To earn some SB, all you have to do is just use their search engine. Their search engine is powered by Yahoo. So you will see the same results as Yahoo. Unfortunately, they don't reveal the exact amount which you can earn for every search. However, to maximize your earnings, you should make it your default search engine. Once you do that, you will be able to earn money throughout the day.
2 Surveys: This is the most popular and quickest way to earn some extra cash. The good thing is that you will find surveys on a wide range of topics. So you can select surveys as per your wish. One survey takes around 10 or 15 minutes to complete. And if you keep on taking surveys for more than an hour, you can earn as much as 10 Dollars. However, remember to be completely honest while taking the surveys.
3 Watch Videos: You can even earn money by just watching videos. And the best thing is that they have all kinds of videos. From entertainment to news to music, you will be able to find almost everything. However, if you think that you will earn plenty of money by just watching videos throughout the day, then you are wrong. They have limited the maximum earnings through watching videos to 150 SB per day.
4 Playing games: If getting paid to watch videos was not good enough, you can earn money even by playing games as well. However, unfortunately, you won't be able to earn much through games.
5 Referral program: Through the referral program, you can earn plenty of money. Whenever you refer Swagbucks to a friend and he signs up on your referral, you will get 10 percent of whatever he earns. So if he earns 500SB, you will get 50 SB. If you manage to have more than 10 referrals, then you can earn a lot without practically doing anything.
6 Hourly winner: Every hour, Swagbucksalso declares a random winner in the " Hourly Random Winner Section". If you find your name over there, then you have to click on a link to claim your prize. However, if you forget to claim it, then you can't claim it afterward.
Cashing out: Once you have earned a decent amount of SB, you should immediately cash out. There are several options. However, the most popular option is the 5 Dollar Amazon Gift Card which you get for 450 Swagbucks. You can opt for a Paypal transfer if you wish.
Conclusion: It is a completely genuine site and is a great option if you want to earn online. The best thing about them is that there are several ways to earn money. So you earn money doing the things you like.
iSurveyWorld
Apart from Swagbucks, iSurveyWorld is also another extremely popular site in the UK. However, unlike Swagbucks, here taking surveys is the only way to earn money. Most of the surveys which you will find here will be based on entertainment and research. And generally, most survey sites only pay through gift cards. If you don't prefer gift cards, then you will like this site even more because they only make cash payments through PayPal. It is a relatively new site but they have already made a name for itself.
Some of the best things about ISurveyWorld are:
1. Joining Bonus: The moment you join this site you will get a 5-dollar bonus. This is one of the most attractive things about this site. Very few websites offer such kind of joining bonus.
2. Easy to use the website: This is also another major advantage of this site. Survey sites are generally quite confusing and it can be very difficult to navigate from one survey to the other. However, this website has been designed very carefully and is extremely user-friendly.
3. Support System; They also have a very good customer support system. They are not the quickest but they will reply to all your queries. To contact them, you have to issue a support ticket and they will get back to you in a few days.
How to get started: Just like Swagbucks, the registration process is very straightforward. You will fill in your basic details and they will send you a confirmation mail afterward. You have to head to the Dashboards column and start taking surveys. However, while you fill out the Profile form, be patient and mention all your details. The surveys which you will be getting depend on your Profile.
Earnings: After every survey you complete, your balance will increase. The average length of a survey is around 10 or 15 minutes. And you will get around 2 Dollars for each survey. However, many long surveys provide better rewards. Hence, the rates are quite decent and you can earn decent money if you spend some time on this site. However, you can cash out only when you reach 25 Dollars.
Conclusion: iSurveyWorld is another great site for surveys. They will allow you to earn a decent sum of money. And they also pay via PayPal, which is extremely reliable. They also have a great customer support system. The 5 Dollar joining bonus is also a great offer. However, the only flaw is that it takes some time to process the transactions and it can take around 3 weeks to reach your account.

 Ipsos I-Say
This is another legitimate survey site that is quite popular in the UK. Just like most other survey sites, signing up is completely free and the process is also pretty quick. This site offers surveys on a wide range of topics. You can select one as per your wish. You get points for each survey which can be later converted to cash. One survey can get you anything between 10 and 100 points. For your convenience, survey invitations can be sent directly to your mail. The number of invitations that you receive depends completely on your profile.
The different kinds of rewards are:
1. Cash: 100 points equates to 1 Dollar. Hence, once you reach 1500 points, you can redeem it for a 15-dollar cash payment by PayPal. This is the most popular offer because most people prefer cash.
2. If you shop a lot, you can also opt for an E-voucher in some of the major stores like Amazon. For 500 points, you will get a 5-dollar voucher. And the voucher will be immediately delivered to you.
3. You also have the option to exchange your points for a Visa Prepaid card.
4. They also have tie-ups with several leading charities. So you can also donate if you want.
Loyalty programs: One of the best things about this site is that it offers a loyalty program to its old members which allows you to earn some bonus points. For every 5 surveys which you complete, you will get 25 bonus points apart from the normal rate. And for 10 surveys, you will get 50 bonus points.
Referral program: Ipsos I-Say also has a very good referral program which you should use to earn more cash. The moment one of your referrals signs up, you will get 100 points.
Draws and polls: Ipsos also conducts draws. Every 4 months, 10 fortunate members are awarded 10000 points. There are also several lotteries where you can earn gift cards worth 120 Dollars. Apart from that, you will also find several polls. These polls won't get you points, but they will help you get an entry in the draws.
Conclusion: Overall, Ipsos can be considered an above-average survey site that has a diverse range of reward options. The first thing which will strike you about this website is the clean and easily navigable interface. Before starting a survey, you will be able to see how many points you will get after completing it and how much time it will take to complete it. The surveys are also quite well written and covers a wide range of topic. They also have a mobile app. However, you will be able to download it only after getting an invitation from Ipsos. Even if you don't get the invitation, there is nothing to worry about. The website is mobile optimized and you will be able to access it easily from your smartphone.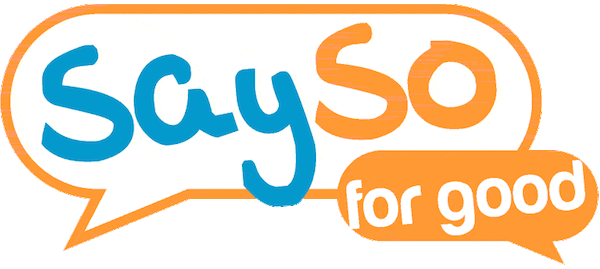 SaySo for Good
This is a different kind of survey site. They have a noble mission and that is to feed hungry children all around the globe. They work with leading organizations like the United Nations and Action Against Hunger. Both these organizations try to fight malnutrition and do everything possible to feed hungry children in third-world countries.
How can you help: For every survey you complete, they will donate 15 cents to their charity partners. It may sound like a very small amount. But thousands of people take surveys every month and in the end it all adds up to a huge amount. And apart from helping the hungry children, you will also get rewards for completing surveys. So it is a real win-win situation for you. The surveys are also quite fun and are on a wide range of topics. Each survey generally takes around 5 or 10 minutes to complete.
Why are they so determined to end hunger: In case you are wondering why they are so passionate about ending hunger, you should know that hunger is one of the leading causes of death globally. The number of people dying because of hunger is much more than the number of people dying because of diseases like AIDS. Around 800 million people in the world do not get proper nutrition. Action For Hunger believes that at this rate, they will be able to eradicate world hunger by the year 2030. However, that will be only possible if every person including you take some responsibility.
And apart from feeding hungry people, your donations are also used for other noble causes as well. They also assist small-scale farmers and take several measures so that everyone gets access to clean water.
Sign up: It is very easy to signup. The entire process takes less than 5 minutes. And the best thing about this site is that you will never run out of surveys. The moment you log in for the first time, you will be able to see several available surveys. The surveys are also quite interesting and you will enjoy doing them.
Conclusion: You won't get rich through this website but you get the opportunity to save the life of someone else. It is definitely worth your time and effort.
Related article: Paid Surveys at Home-How To Make up to $70 per Survey